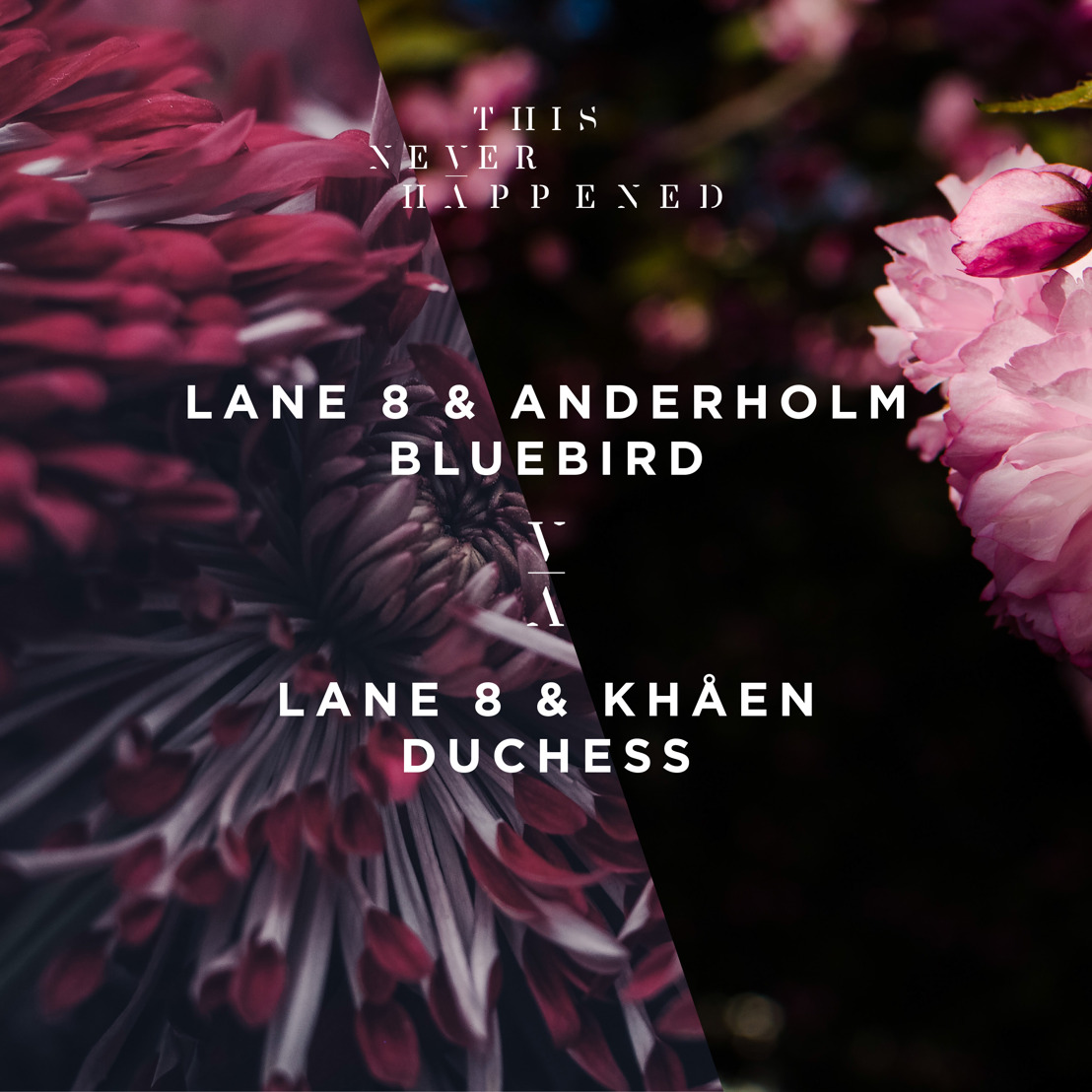 Lane 8 Releases Double A-side of Collaborations
Featuring This Never Happened Artists Anderholm and Khåen
Monday, June 4, 2018 —

Lane 8 continues the This Never Happened epic and releases his double A-Side record of collaborations with revered label-signees Anderholm and Khåen. Both of these songs are dear to Daniel's heart, bot respectfully featured as the opening and closing songs in his recent Essential Mix on BBC Radio 1.

The record displays the qualities of Lane 8's music that his fans know and love, while also bringing the stylistic nuances of his protege label mainstays. Both Anderholm and Khåen were featured on the first edition of Lane 8's Root To Branch compilation, and are now making their well-deserved return with new singles "Bluebird" and Duchess". The records are willfully designed for any listening environment, whether it's commanding a dance floor, steering a long car ride, or even as simply as serving as an earworm the casual listener. Re-pointing the spotlight on Anderholm and Khåen, Lane 8 displays his talents as a finely-tuned curator as well as his altruism in providing a platform for smaller artists.
In Lane 8's own words: "Developing the artists I've signed to This Never Happened has been one of the most rewarding projects of my career so far. Every once in awhile, artists send me tracks that have great ideas, but the execution is slightly lacking - they are stuck in a rut, and need an outside perspective to cross the finish line. With Bluebird, Anderholm had the idea of that main piano loop from the intro and some really cool sounding drums - then I added layers of synths and a chord progression to bring it home. With Duchess, Khaen had this absolutely brilliant synth hook, and we both agreed it would be cool to add some Lane 8-tinged elements to the song to bring out that maximum energy. I took his main idea and expanded it into something that really gets a dancefloor moving. It was so fun to do these collaborations, I've always found that working with someone else's audio parts, whether for a collaboration or a remix, is almost more like a game - I really enjoy it and have a lot of fun bringing those great core ideas to fruition."
Stream EP: https://tnh.lnk.to/BluebirdDuchess
Follow Lane 8
https://soundcloud.com/lane8music
https://www.facebook.com/lane8music
https://twitter.com/lane8music
https://www.instagram.com/lane8music/
Follow Anderholm
https://soundcloud.com/anderholmmusic
https://twitter.com/anderholmmusic
https://www.instagram.com/anderholmmusic/
https://www.facebook.com/anderholmmusic/
Follow Khåen
https://www.instagram.com/khaaen/
https://www.facebook.com/Khaaen/